Frequently Asked Questions (FAQ)
How long does it take for delivery of my purchased service?
Our objective is to deliver all orders in a maximum of 5 days, and most of the time, your order will be done under 48 hours. But for bulk orders, it can take up to 10 days before full delivery of the service.
Can I pay with bitcoins or other cryptocurrency?
We accept more than 20 different cryptocurrencies, including BitCoins, LiteCoins, Dash, Ethereum, etc... Simply choose the "Cryptocurrency" payment methode in your Shopping Cart and you will be redirected to the coinpay processor to complete the payment.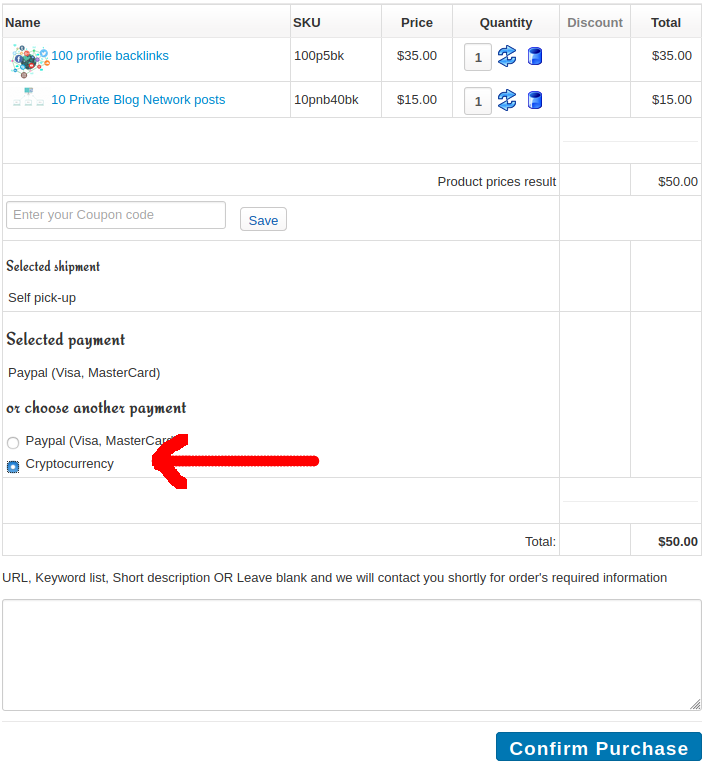 Can I pay using credit cards (Visa, MasterCard)?
You can pay with your credit card using paypal, even if you do not have any accounts with them. Simply click the "Pay with Debit or Credit Card" link under their logging form when you get redirected to their website as shown in the image below. No need to create any paypal account!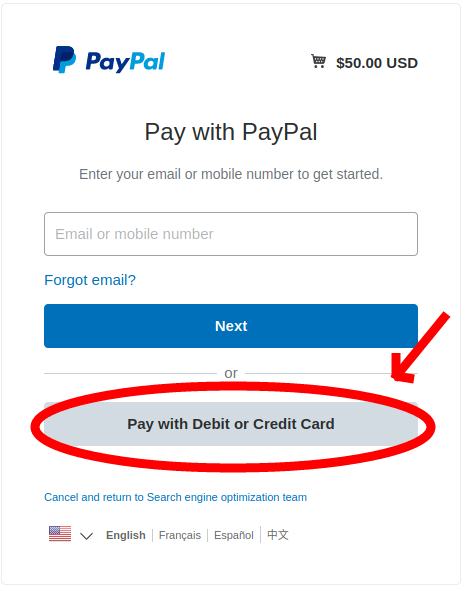 What is the difference between confirmed and started order status?
The confirmed status is when we have received your payment, but your order has not yet been reviewed by one of our team member. Once it has been reviewed, your order will be placed in the queue and your order's status will be switched to "STARTED!". You can consult the status of your orders at any time by visiting the List Orders section of our website.
How can I be sure the service has been totally completed as requested and purchased?
Before each delivery, we have softwares that scan and re-check the work done before building the order's report. This way, we make sure all your purchased backlinks are online and accessible when we send you the report. Still, you can double-check our work : all 1st tiers, 2nd tiers and 3rd tiers baclinks will be shown to their parent URL so that you can trace them easily.
How much time does it takes to see any difference in my SEO results if I use GetZQ?
We ping all our generated backlinks to make sure they get indexed as fast as possible and all backlinks are generally indexed in less than 48 hours. Repercutions on your website's authority, citation and trust flow can be seen in the next few days after the backlinks are indexed, it can take up to a week. Depending on your website's content and keyword competition, you should see a difference in less than 30 days in the search engine's results.
For any other questions, information, tips and tricks regarding Search Engine Optimization (SEO), please refer to the information section of our website or contact us.